Other (English) by Frank Hughes (F.H.) - vN/A
Description
This patch enables a programming debug screen, a stage select screen and the ability, whilst in-game, to relocate the main character.
Debug Mode Screen
On Title screen, press 'Select'.
Action Map Select Screen
Start the game, and 'Okay' the options: the menu is obligatory. TL/TR Toggles between the options. Press 'A' to begin at that stage.
When in-game, Pause the game, then hold TL and press 'Start' to return to the Action Map Select Screen.
Relocation of Main Character
In main game, hold TL or TR to allow relocation (using the D-pad).
History
Screenshots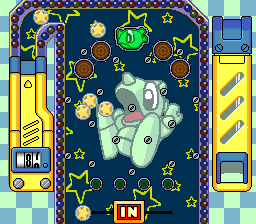 Downloads